CrabTree Neck Cottages and Farmhous
Cottage Rentals Between Mount Desert Island & Schoodic Peninsula, Hancock, Maine
Blackberry Cottage
Blackberry Cottage
Our cozy, rustic pine cottages are surrounded by forest and field on Hancock Point. Blackberry Cottage is tucked under the trees and Blueberry Cottage overlooks the pasture and blueberry field. They are within easy walking distance of the shore.
We are located in Hancock, Maine, halfway between the entrance to Acadia National Park in Bar Harbor on Mount Desert Island, and Acadia National Park at Schoodic Point in Winter Harbor. The secluded location is close to the village of Hancock in an excellent area for a vacation with hiking biking, kayaking and berry picking. Step out the door and take a peaceful, ten-minute walk to Jellison Cove on Frenchman's Bay or explore the nearby woods and fields. There are quite a few shorter, kid friendly trails right here on the point.  There is a lovely woods trail at the back of our property in the Crabtree Neck Land Trust.
Blueberry Cottage
The cottages are fully furnished and provided with a simple and complete kitchen, a snug combination living dining area, two bedrooms downstairs, one with a double bed and one with two bunks, plus a large sleeping loft upstairs with a queen size bed, a twin size bed.
Both cottages sleep up to seven people, have large picnic tables on the covered porches, and are ideal for couples or families. A crib is available upon request. The cottages are equipped with gas grills on the porch. The bathroom has a combination tub shower.
We provide free Wifi. We will supply a radio, a television and DVD player for viewing movies, alarm clock, all bed linens and towels, gas grill, washer and dryer, ironing board and iron. The cottages are heated with a fireplace wood stove and firewood is provided for the fireplace. We cannot permit outdoor fires.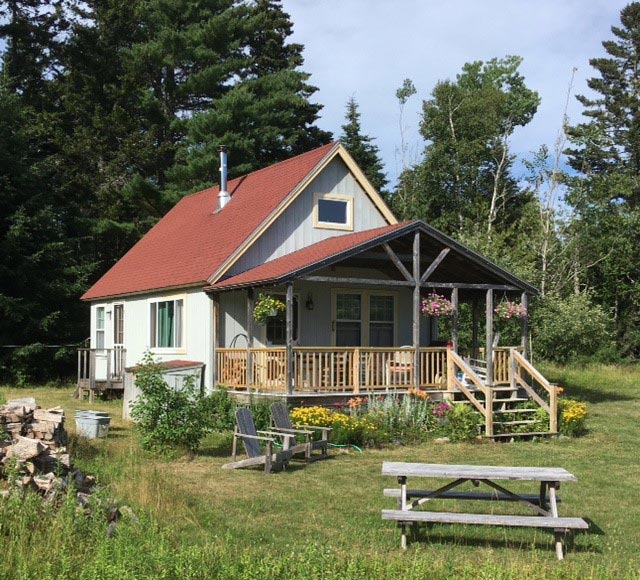 Blueberry Cottage
Loft, Blackberry Cottage
Enjoy the beauty of coastal Maine. Bike to the Frenchman Bay Nature Conservancy where you can hike, kayak, or picnic. Take a ride around the point and see the wonderful old historic houses, visit the library, the Famous Crocker House Restaurant, and Carter's Beach, all here on the point.
Drive to the nearby Acadia National Park entrance in Bar Harbor on Mount Desert Island (45 minutes) or to Acadia National Park on Schoodic point in Winter Harbor(about 25 minutes in the opposite direction) and enjoy the quintessential Maine coastal villages along the way. Shop or go to the movies in Bar Harbor (45 minutes) or Ellsworth (20 minutes).
The little town of Hancock, Maine boasts some fabulous fine dining restaurants (Crocker House, Ironbound Inn), and several more modest restaurants with great local and ethnic offerings. Or just eat in on the cottage's covered porch and enjoy a peaceful evening watching the sun set and listening to bird song.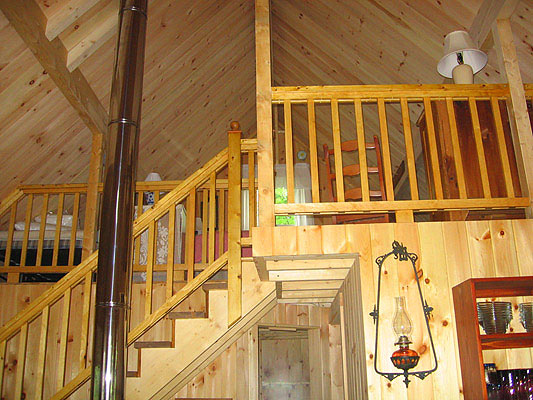 Loft, Blackberry Cottage
Pick Maine blueberries right outside your door in July and August. Bike rentals, kayak/canoe rentals ("see other info." below), and guided tours are available nearby. For swimming, boating, hiking, and mountain climbing, visit Maine's Public Reserve lands on pristine Donnell and Flanders ponds, and explore the Frenchman Bay Nature Conservancy (see links at bottom). Tennis courts are available not far from the cottage, by prior arrangement. A public beach, woodland trails, historic houses, and a quaint summer library are within easy biking distance.
Farmhouse
For a larger accommodation, this charming 1890's farmhouse is on the same property as, but separate from, the Cottages. Situated on a quiet country road, it borders on the Crabtree Neck Land Trust and Community Gardens on Hancock Point.
The house has 3 bedrooms, one with a back stairway, and two bathrooms. It sleeps 7 to 10 people. The farmhouse kitchen is fully equipped and has a wood stove. The renovated dining room in the old summer kitchen opens on to a large flower filled deck and huge back yard. There are fields and woods all around. Wi-Fi available.
More Pictures, Spring and Fall
Radio, DVD and T.V. monitor (no cable)
Coffee maker
Microwave, toaster, refrigerator
Cooking utensils and dishes provided
Spacious porch for dining
Fireplace type woodstove and wood
Books, movies and games
Additional outdoor picnic table
Linens provided
Washer and Dryer
Gas-Grill (BBQ) on porch
Pets negotiable
No smoking inside
Internet
Rental Rates Blueberry and Blackberry Cottages
Full weeks priced for up to 7 persons, partial week, weekend and holiday prices for families or groups up to 4 adults. See below. Couple's Special available sometimes. Cleaning fee sometimes charged for partial weeks or mid week dates.
Please click the button below for detailed price list.
For more details by email: [email protected] or by calling 207-422-3962  or 207-214-8730
2016 Rate information for 1890's Farmhouse
Farmhouse, full weeks, Sunday to Sunday in high season. Weekly prices range from $550 in early May to $1295 in high Summer and then range down to $715 in in late September and October. Partial weeks and Holidays available in Spring and Fall. Nightly prices range from $79 to $189.
Please click the link to the right for detailed prices, or call 207-214-8730.
Deposit Information:
A deposit of half the cost, with sales and lodging tax, is required for reservations, the balance to be paid two weeks before arrival. We accept checks and money orders, but not credit cards, except by special arrangement. In case of a cancellation, deposits are not refunded unless the reserved time is rented to another party, in which case deposits will be returned less a $25 processing fee.
For Cottage Reservation and Rentals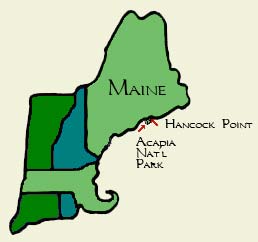 Crabtree Neck Cottages
585 East Side Road
Hancock, ME 04640
Acadia National Park – Points of Interest